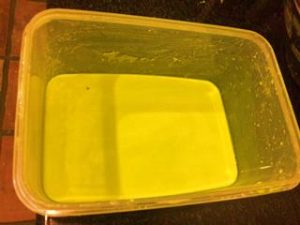 Are you a looking for a way for your child to have a lot of fun as well as build a sensory experience? Goop is an excellent way to do this and this goop recipe will help to achieve this goal.
Sensory awareness goes hand in hand with creativity. While exploring and experiencing with art activities, children are lead on a sensory adventure, developing awareness of texture, temperature and colour. Their curiosity is aroused and this assists children in the growth of many skills including small muscle development, hand eye co-ordination, concentration, to solve problems and to make decisions.
Experiments with art materials can excite even the youngest child's imagination and promote a sense of great achievement. Encourage children to experiment- they need to know there is no one right way for their art work to look finished. Self expression should be fun. The value of a child's art lies in the doing not in the end result.
The following messy activity requires little presentation and is guaranteed to be fun, especially enjoyed outdoors; try them during the holidays!
                            Goop
     You will need
2 packets of cornflour
2 cups of water
Food colouring
Large plastic container
Aprons
Plastic or newspaper to cover the table
Method
Mix the water and colouring together into the cornflour.
Then you should have a thick consistency, add extra water if necessary.
Put on aprons.
Plunge hands into the goop and feel the consistency .
Use words to describe the feeling . e.g. sticky, slimy cool etc.
Enjoy exploring the behaviour of goop, as it runs through the fingers, swirls slowly and has a pleasant, heavy feeling.
Patterns can be made on the table.