A long weekend stretches ahead… the kids are at home, and need something to do. If you don't want to get out and about with some local things to do, perhaps you'll settle for some crafting at home.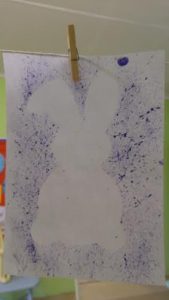 Toddlers love painting and it's a pretty easy activity to give them a bunny to paint. You can also do splatter painting with a paintbrush or toothbrush, or marble painting by rolling the paint covered marbles over an image of a rabbit. You can add in a cotton wool tail and google eyes later. You can also do the same techniques with an egg.
A nice fine motor activity for toddlers is to glue buttons on the bunny. It was interesting to notice in my class how some filled up that bunny, while others just placed one or two on him. Either way, it's a great method for building that pincer grip.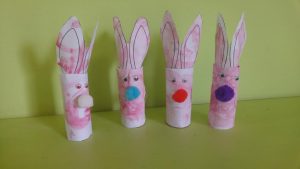 A cute way to recycle those toilet rolls is to get the kids to paint some ears and then stick them on the bunny. They can also paint a sheet of paper to wrap around the roll. Then place a pom pom for the nose and google eyes for the eyes. As a variation of this you could get them to draw wax crayon on the paper and then colour wash food colouring and water over it with a sponge.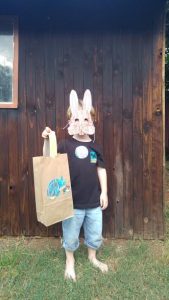 Kids love masks and it's really a lot of fun to make a bunny mask. Complete the look with an Easter egg basket – which in this picture was made from a brown paper bag with the child's coloured picture on it. For more ideas on the basket made from recycled milk cartons or cooldrink bottles see this post, and for ideas on how to dye the eggs see this post for onion skin and petals and this post using wax crayons or pastels.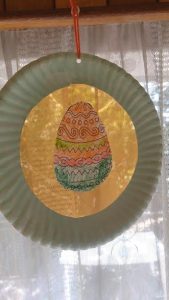 Another lovely idea which is super simple is to colour an egg, and then surround it with cellophane and a paper plate. It makes a beautiful decoration to hang up – an Easter egg mobile. You can also do ribbons of different colours across an egg shape on a paper plate.
Do you have any other Easter craft ideas?