With Easter just around the corner, it's time to start thinking about crafts and activities you can do with your kids. Dyed eggs have been done before many times, but here's a beautiful twist on an old favourite. Use wax crayon colours to make a striking marbled pattern on your eggs this Easter.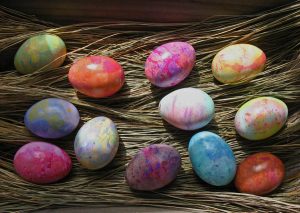 You will need:
Brown or white boiled Eggs
Grated pastels or wax crayons
Boiling water
Bowl
Varnish (or food colouring and water) and a paint brush
To do:
Grate pastels or wax crayons into a bowl.
Pour boiling water into the bowl with the grated crayons
Stir to mix
Lower the egg slowly into the boil of wax shavings and boiling water until immersed and swirl around for a minute.
Remove and leave to dry in an upturned egg box.
When the wax has hardened , the eggs can be painted with varnish.
The melted crayons will make a beautiful marbled pattern on your eggs.
Another lovely way to dye your eggs is this mottled effect with petals and onion leaves using this post.
Now, if you're looking for a basket for your eggs, check out this post about how you can make one from a cooldrink or milk bottle.