Looking for some sensory ways to keep your kids busy? Working with dough and paint is a toddler favourite activity, and will interest all preschoolers too.
Peanut Butter Playdough
1 part peanut butter
1 part non-fat powdered milk
1 tsp. of honey*(optional)
* Mix and knead.* Honey should be avoided for children under age one.
Oatmeal Fun Dough
2 cups uncooked oatmeal
1 cup flour
1/4 cup water
*Mix all ingredients and knead dough.
Rubber Dough
2 cups baking soda
1 1/2 cup water
1 cup cornstarch
*Mix with fork. boil over medium heat until thick. Cool on flat surface.
Other Recipes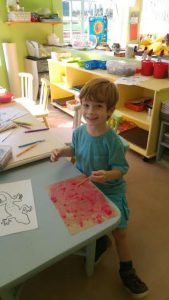 Flour Finger-paint
3 cups flour
2 TBSP liquid soap
3/4 cup water
food coloring
*Mix all ingredients together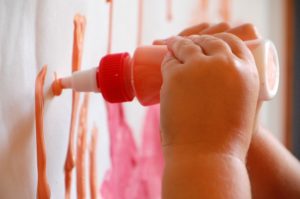 Finger Paint
*Mix together dry tempera paint with liquid starch or wall paper paste.
Puffy Tempera Paint
(for paper use only)
1 part salt
1 part flour
1 water
2 parts dry tempera
*Mix all ingredients together and put in squeeze bottles.