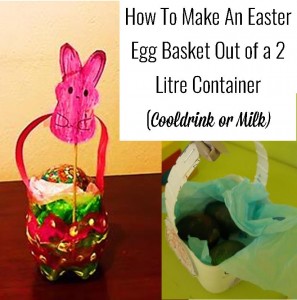 You don't have to spend a lot of money to make an awesome Easter egg basket for your child this Easter. All you have to do is use an old container and spruce it up with decorations.
You will need:
An empty 2 litre cool drink container
A sharp knife ( for adult use only)
Scissors ( Adult use only)
Paintbrushes
Colorful paint
Tissue paper
A strip of thin cardboard
A stapler
Glitter pens (optional)
Pretty ribbon
How?
Cut a 2 litre cool drink container approx.  10 – 14 cm from the bottom ( Adult only)
Trim uneven edges with sharp scissors ( Adult only)
Paint the container with thin brushes dipped in colourful paint to make patterns, dots etc.
Leave to dry
Cut a strip of cardboard for the handle and paint if required
Staple cardboard strip on either side of the container
Fill container with soft tissue paper
Cut a pretty ribbon and tie over the middle handle of the basket
Milk carton alternative:
Milk cartons can also be used. For a milk carton you don't have to have the cardboard strip for the handle, you can actually cut it from the plastic.
As another alternative to paint you can use cut outs of Easter eggs and paste them on top. (I used this template)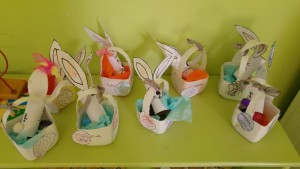 Inside you can place boiled eggs. You can use food colouring to decorate them, with crayon or glitter, depending on the age of the child.
For more Easter craft ideas, see the Field and Study Montessori pinterest board here.