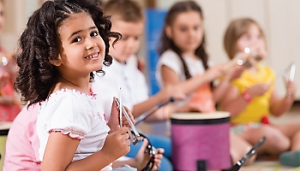 "Movement through music means active listening, whereby a child adds to their understanding of their feelings about the sounds that they hear in their environment " (Crencec, et al)
When young learners hear music playing, their bodies feel the music and they start to move accordingly. As movement and music are important ingredients in the child's world, music without movement will not have the same impact on the child's learning process.
When children sing, they also discover language structures and vocabulary incidentally and spontaneously.
Music has well recognised developmental benefits:
Music establishes patterns of brain development.
Music is important in the development of language skills.
Music creates a pathway for emotional bonding and self esteem.
Music provides a tool for problem solving and an opportunity to free the imagination.
Music activities are helpful in developing listening skills.
Social development improves through music.
Music will enhance numeracy skills.
It is well known that learners learn information far more easily when it is set up for music, for example learners find it easier to learn the alphabet by singing the alphabet or counting songs.