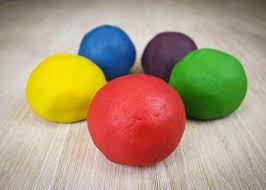 Salt dough is a very useful substance to have in a preschool. We've posted before about how we made Salt Dough Fridge Magnets in the microwave (super fast), and how to make ornaments, but now we're going to tell you how to cook it on the stove to make a substance like play dough, which the children can have fun playing with.
You will need:
1 cup salt
2 cups flour
4 teaspoons cream of tartar
2 tablespoons cooking oil
2 cups of water
Powder paint or colouring
Saucepan
Method
Mix ingredients in a saucepan.
Add colouring. Cook for 3 to 5 min on medium heat, stirring constantly until it becomes soft.
Store in airtight container in fridge. It will last for a while and has the consistency of commercially prepared playdough.
(Children love holding, soft, pliable materials in their hands and squeezing them to make shapes, roll, pull, twist, and knead.)