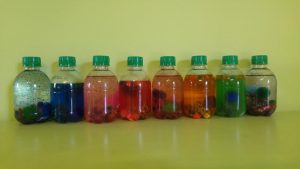 Sensory bottles are a beautiful craft to make, but they also serve a purpose for little kids. Have fun making these bottles and enjoying the different items you can add to them.
Sensory bottles have a calming down effect on toddlers. When the world becomes too much they can anchor down on the bottle, rattling it and rolling it around as a physical outlet (instead of hitting). As they watch the glitter and objects fall, their eyes are brought into their midline which helps organise and regulate the nervous system. As they watch the falling slowly, so their heart rate calms down as well.
What you'll need:
Bottles. Little bottles. I used a little plastic cooldrink one (250ml) but you can go even smaller. I found these at Pick n Pay "Kid-O Sparkling" with Stevia. They sell them in packs of six.

Water
Baby oil (or some kind of oil, but baby oil is nice because it is clear)
Glue
Glitter
Food colouring
Little objects to put inside (eg buttons, little shapes, shiny beads, Stikeez, (try the glow in the dark Stikeez!)

Pom poms

Steel wool
Method:
Fill the bottles with liquid. I suggest one water and one baby oil. You'll notice the objects move slower in the baby oil.
Add glitter.
Add all the rest of the objects, pom poms and steel wool. Kids will have fun pushing them in.
Glue on the lid!
Have you ever made a sensory bottle? And what was your experience?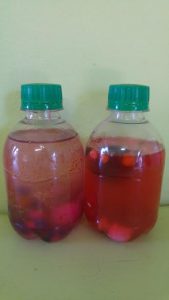 Oil on the left, water on the right.