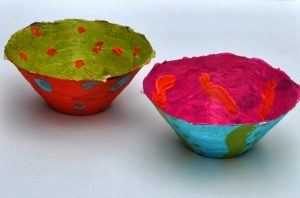 Creating these easy to make paper mache bowls is a great sensory experience for children. Tearing the newspaper into strips and dipping them into the bowl of flour paste is messy fun and strengthens children's fine motor skills too. What a great activity!
Your child can also enjoy painting the bowls with their creative flairs!
Your child's paper mache bowls will make gorgeous presents for special occasions too!
You will need:
A bowl for your mould (any size)
Newspaper (torn into thin strips)
Maizena/ flour mixed with water
To do:
Cover the bowl with Vaseline or sunflower oil.
In a another bowl mix maizena /flour and water into a semi thick consistency.
Tear newspaper into thin strips.
Place the newspaper strips around the bowl, pasting it with your flour mix, making sure that the newspaper is well covered with the flour paste.
Ensure that you bowl is evenly covered , and has added newspaper strips around the edges and bottom of the bowl .
Continue with several layers, smoothing it around the bowl until firm.
Place your bowl in the sun or in a low temperature in the oven, until dry and hard.
Using a knife, carefully loosen the rim of the bowl with the knife, and remove the paper mache mould. (Adult only)
Paint your bowl. You can also varnish your bowl after the paint has dried.