All kids love dinosaurs! The prehistoric creatures are a curiosity and a lot of fun to learn about. Here are some ideas for doing some crafty art activities with dinosaurs.
Handprint Dinosaur: A super fun activity for toddlers, because all they have to do is place their cute little paws all over the back of the dino to create scales. Print out a dinosaur and let them print their hands along his back (like a Stegasaurus). Another cute thing is to print some rocks underneath which we did with cork printing.
Paper plate dinosaur: Cut a paper plate in half and colour wash it (I used red). Then let the kids print with shapes coloured yellow, red and orange. It doesn't matter so much if they are younger and the colours mesh together – it creates an interesting effect. Dress up their creations with dinosaur templates I found here.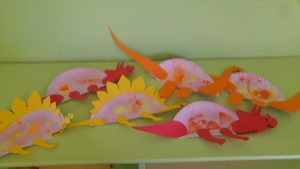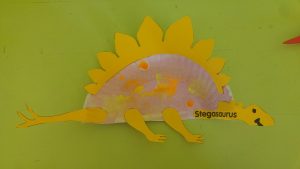 Bubble print dinosaur. Another great one for toddlers because all they do is paint the bubble wrap and then you stick it over a dinosaur template. Cut them out and voila! Patterned dinos.
Shape dinosaurs. Cut a semicircle for the dinosaur's body. Use foam to cut out his head (hexagon) and scales (triangles) and let the kid stick them on. Some kids stuck them in the middle which gave the dinosaur a cute angle from a different perspective.
Technique on a dinosaur: I used marble art (where you take marbles, dip them in paint and let them roll over a template).
Some other things you can do for a dinosaur theme:
Plastic dino toys – great for them to learn the names of the different dinosaurs.
Gross motor activities – I used a dice of different actions associated with various dinosaur.
Songs: We sang "Dinosaur Stomp" which had some cool actions.
Have you done any awesome dinosaur activities?