Written by Julia Gorham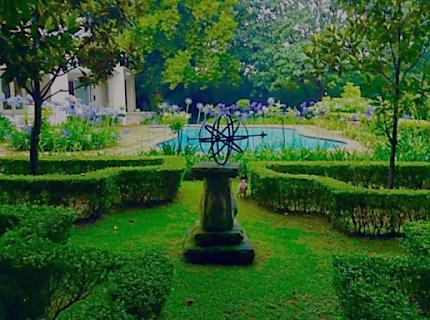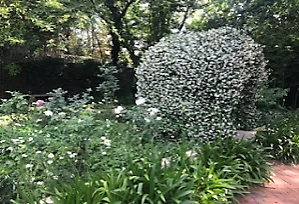 "I grow plants for many reasons: to please my eye or to please my soul, to challenge the elements or to challenge my patience, for novelty or for nostalgia, but mostly for the joy in seeing them grow."
David Hobson
I bought an acre property in Bryanston in 2000. With beautiful tall trees and vast open spaces, due to all the plants in the garden being removed by the previous owner. It was dry, alone and crying out in desperate need of loving care. Upon visiting the property and driving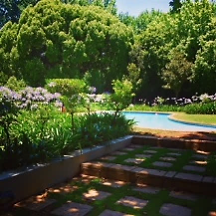 up the long driveway, I instantly fell in love with the impressive trees on either side of the driveway, who openly whispered a secret history of interesting tales to share with me, with their sudden swaying of branches and display of their breath taking large, oak rectangular leaves.
I instantly had a vision of creating a beautiful garden, filled with different colours for each season and special spaces, a garden to create with passion. This would be my special project, an exciting challenge that will be an amazing treasure, forever to hold.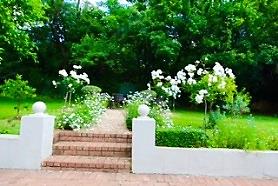 Over the past few years, I pursued my dream and created my dream garden filled with love and hard work. I bought every garden book I could find and drove many miles to find the perfect plants for my special garden. To my delight, I watched my garden come alive with sparkles of colour and the soothing arrays of new life. With love and patience my garden grew each year, to fulfil my ultimate dream.
My garden is a place where I can find peace and happiness, a place where we buried our much loved dogs, – right in the middle of the rose garden and guess what? Orange daisies sprung up in
memory of them! It's a place where my girls made daisy chains, pansy headbands, swung high from the trees, a place where they climbed the large trees, cut sweet, scented roses and jasmine to place in long glass vases, a place where they played fun games, ran with their dogs, had picnics, played "hide and seek," scooted down the driveway with the open, welcoming white African daises on either side.
My girls planted their favourite vegetable seeds in the vegetable garden, watering them each day, they picked bright, purple mulberries, ripe round plums and peaches to eat to make fruit jams. They watched goldfish in their carefully placed fish pond in the middle of the rose garden, whilst sitting on their favourite bench, picked rosemary and bay leaves for home cooked meals. My mother kindly donated bright purple agapanthus, African daises, pink creepers, delicate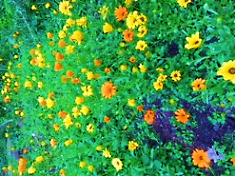 violets and bamboo from her garden that reminds of us of her each day. These memories of these plants carefully planted in my garden, will be ingrained in my family memories forever.
My garden is place of heaven and a dream come true! As I walk in my garden or gaze through the windows, it always gives me immense pleasure, joy and a sense of tranquillity!