Fruity Flower Sculptures
Written by Julia Gorham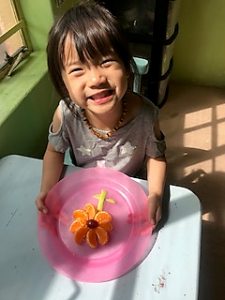 These colourful fruit sculptures were a great hit in my classroom and the children loved eating their pretty, fruity flowers too!
You will need:
Naartjies
Purple grapes
Green apples
A wooden board
A knife (For adult use only to slice the apples and grapes)
Plates
To do:
Wash the fruit
Peel the naartjies
Cut the grapes in half
Slice the green the green apples into long slivers for the stems and smaller slices for the leaves
Place the different fruit onto a main plate, ready for your child to assemble.
Ask your child to place the grape in the middle of the plate and to place the naartjie pieces around the grape to form a complete petal flower.
Place the apple stem beneath the flower with the two smaller cut pieces of apples on either side of the stem.
Watch your child marvel at their beautiful fruity, flower, healthy creations and enjoy the tasty fruits too!
Encouraging healthy eating habits for young children is important and this is where it starts!