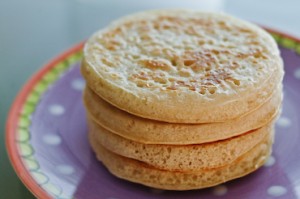 Ingredients:
2 cups sifted plain flour
¾ cups granulated sugar
3 tsp. sifted baking powder
3 eggs
1 cup milk
30 g melted butter
Large spoon
Large bowl
Jam and butter (for serving)
To do?
Place dry ingredients in a large bowl. Add melted butter.
Mix ingredients until smooth.
Grease a frying pan with a little butter.
Heat the pan on a medium heat.
Using a large spoon, slowly drop small amounts of the batter onto the heated pan.
Cook until bubbles break on the surface and golden in colour.
Turn and repeat.
Remove pan from the stove.
Place the crumpets on a serving plate.
Serve warm with butter and jam.