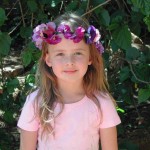 A few ideas for the garden:
Play 'hide and seek'.
Let your child set up a tent in the garden with chairs, blankets, cushions, soft toys, torch, books and a few healthy snacks.
Plan a picnic. Prepare and pack a picnic basket with your child. (That's the fun part!) Don't forget a blanket.
Have a treasure hunt. Write simple clues on small pieces of paper and hide them in the garden. Examples :"I am long, thin and green and I am used to water the garden, what am I?", "Where is the baby spinach planted?", "Where do the birds go to drink water?"
Plant herbs in a pot and let your child care for the plant.
Make an obstacle course. You can use cushions, chairs, tables, hooler hoops, balls and evensticks.
Encourage your child to climb trees.
Pick flowers from your garden , press and make pretty bookmarks, placemats or gift cards. ( See kids crafts)
Blow bubbles in the garden.
Take walks in your garden and name trees and flowers with your child and talk about the plants and flowers. For example: This plant is called an agapanthus. It is an evergreen plant that favours shade and sun and bears a beautiful white or purple flower.
Put up a swing in a tree.
Make hopscotch.