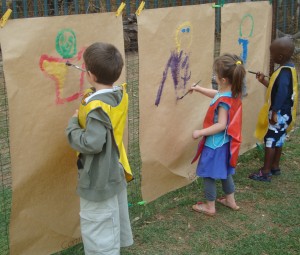 You will need:
Roll of wide paper (1 or 2 metres wide)
Pots of different coloured paints
Thick paintbrushes
Small table for paints (make sure that the table is fairly close to the wall or fence)
Plastic apron
Clothes pegs (plastic ones are best)
How?
Peg or tape a big sheet of paper onto your garden fence.
Ideas:
This is a fun group activity and great for birthday parties!